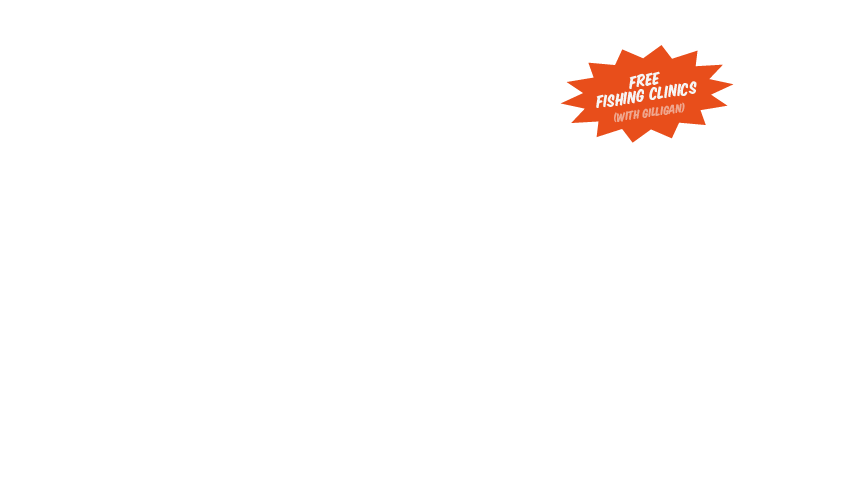 THIS JULY SCHOOL HOLIDAYS COME AND ENJOY A WEEKEND OF FISHING AND FAMILY FUN & ACTIVITIES AT THE
COD HOLE FISHING COMP.
We are very excited to announce the Gilligan's Island Edition of the Cod Hole Fishing Comp coming this June/July school holidays.
The weekend is as much about family fun, having a go, enjoying the outdoors as it is about an expert fishing. The name of the game is having a go and having fun while you do it.
The event is hosted by the Maroochy River Park caravan park
(the friendliest park on the coast)
BIGGER AND BETTER FOR 2019
Registration Thursday (Woo hoo!!)
To take full advantage of the school holidays this year, registeration will now open on the Thursday afternoon (4th of July), giving those who want to, an extra day of competition fishing. That way you spread out your fishing over the weekend and still have time to participate in the other fun and games.
The Shipwreck Ball
On the Friday Night we will be hosting the Gilligan's Island Ship Wreck Ball. A long table dinner serving a fantastic restaurant cooked meal, great live entertainment all served in our marquee. Promises to be a fantastic and fun night. Come dressed up for give-away prices. This year there is even an opportunity of sitting on the millionaire's table.
Fishing Clinics for Big & Small Kids Alike
Spent too much time river side and caught little? Well our resident fisho Gilligan (Blake) will be running two fishing clinics over the weekend.
This year we are also hosting the Shipwreck Olympics. A fun packed couple of hours full games and activities for the kids (and big kids amongst us).. Which includes the infamous Crabpot Relay.
FISHING COMP DETAILS
Okay, onto the serious business, the actual Fishing Comp. The comp will run from Thursday (4th July) 5pm through to Sunday (7th of July) 11am (presentation at 1pm). You may choose to fish through the night, be the early bird or a more civil time that suits you. When you fish and where you fish in the Maroochy River is up to you.
This will be a catch, photograph and release competition. Full competition rules will be available at Registration. The Competition (and Activities) will be run from the
Maroochy River Park, 1 Diura St Maroochydore (Click for Map).
Entry Fees
Entry fees include entry to the event, Free Sausage Sizzles and Kids activities.
All registration fees are donated to the
Westpac Rescue Helicopter Service.
The competition raised $2,900!!
Prize Categories
You can choose to fish from a Boat (want to hire a boat, try Swan's Boat Hire) or simply fish from the shore. The name of the game is participation and family fun.
Participants must be present at the Sunday Presentation to be eligible for the prizes.
Sponsors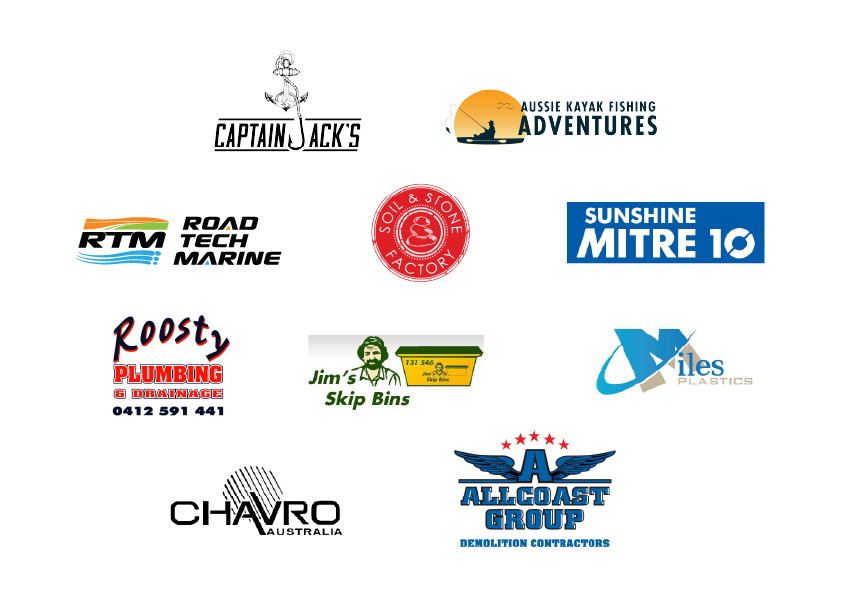 Got Questions?
If you have any questions or queries about the Competition or Accommodation drop us a line (pun intended) and get in contact.
Drop an email to enquiry@maroochyriverpark.com.au
Latest Competition News & Updates
For the Latest Competition Info and Updates stay tuned to:
FACEBOOK
OTHER ACTIVITIES over the WEEKEND
Along with the Fishing Comp, the park will also be hosting a bunch of family orientated events and activities. There is something for everyone and all competing families, whether you are staying in the park or not, you are welcome to join in.
Thursday 4 July
Thursday night is registration night. Join us from 3:30-6pm to receive your registration pack. Once you are registered and have your identification pack, you are free to start fishing.
Friday 5 July
After a day of fishing and fishing clinics for the kids, we'll be hosting the Shipwreck Ball which promises to be a fun night with great food and entertainment. There will be prizes for those who come dressed for Gilligan's Island.
Saturday 6 July
Saturday is where the rubber hits the road (or at least the lines hits the water). Then from late afternoon more fun kicks off with:
Registration opens at 6:30am for those yet to register
Kids Fishing Clinic - (Friday &) and Saturday Morning
Junior Shipwreck Olympics (Games & Activities with the Kids) - Saturday Arvo
Kids Movie on the big screen from 6:30pm
Sunday 7 July
Ok, last day of the Comp.. The comp runs through to 11am before the presentation / prize draw at 1pm.
Free Sausage Sizzle from 12:00pm
Presentation at 1pm
CAMPING & ACCOMMODATION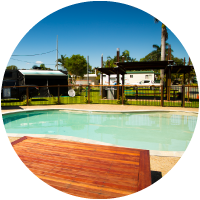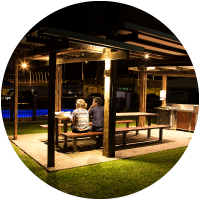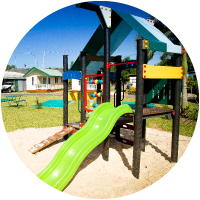 We'd love you to stay with us, we have recently refurbished the park with new campsites and updated facilities. We also have a range of cabins to choose from. If you have stayed with us before, you won't recognise us..
Camping
We have a good range of large campsites that are perfect for big vans, camper trailers and those also with a boat or trailer in tow. Give us a call to discuss your needs and how we can fit you in.
We have a mix of eco-mats and slabs, plenty of lush green grass. All our sites are close to the amenities, the pool and the BBQ areas.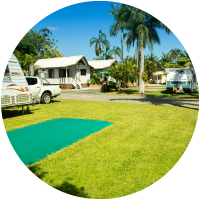 Cabins
We also have a range of affordable cabins that range from Studio Cabins, right up to 3 bedroom holiday apartments. We pride ourselves on the cleanliness and appearance of our cabins.
Studio / 1BR - For Couples
2BR - Great for Families
3BR - Extended Families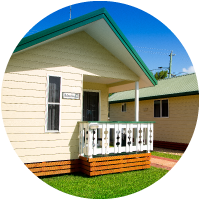 Call us now to make a booking and secure your Accommodation for the weekend:
Book Now! Phone us now on: 1800 802 737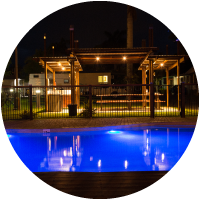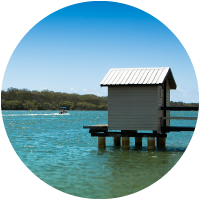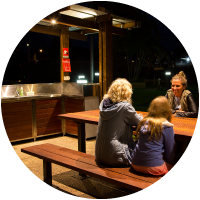 Our updated facilities include:
Upgraded Pool
New BBQ & Picnic Area
Camp Kitchen
New Kids Playground & Sand Pit
Location
1 Diura St
Maroochydore QLD 4558
EARLY BIRD REGISTRATION
Sign-up here for the Fishing Comp and the Friday night Fisho Ball:
Any issues with registering please drop us an email on enquiry@maroochyriverpark.com.au

Terms and Conditions for those entering the Competition:
The Judge's decision is final. No correspondence will be entered into.
No Cheating.. Come on, it is a family event. Karma and Jaws will come back for you.
There is no refund on Entry Fees if the registration is cancelled or you fail to attend the event. (all entry money goes to charity)
We may contact you in the lead up to the event to update you on the program and activities.
Photography, images and video content captured during the event and within the park maybe used by the Park in the promotion of the event and/or park. You explicitly give up your rights to the images for perpetuity. If you do not wish to have those images used, please notify park staff at the time.
You enter the competition at your own risk. SEQ Properties Pty Ltd can not be held liable for your actions resulting from loss, death or injury. Take care out there.
Support the sponsors that support this event. It wouldn't be possible without them.
Competition rules will be available when you sign-on at the competition.
Golden Rule: Have fun and be nice to the people around you.